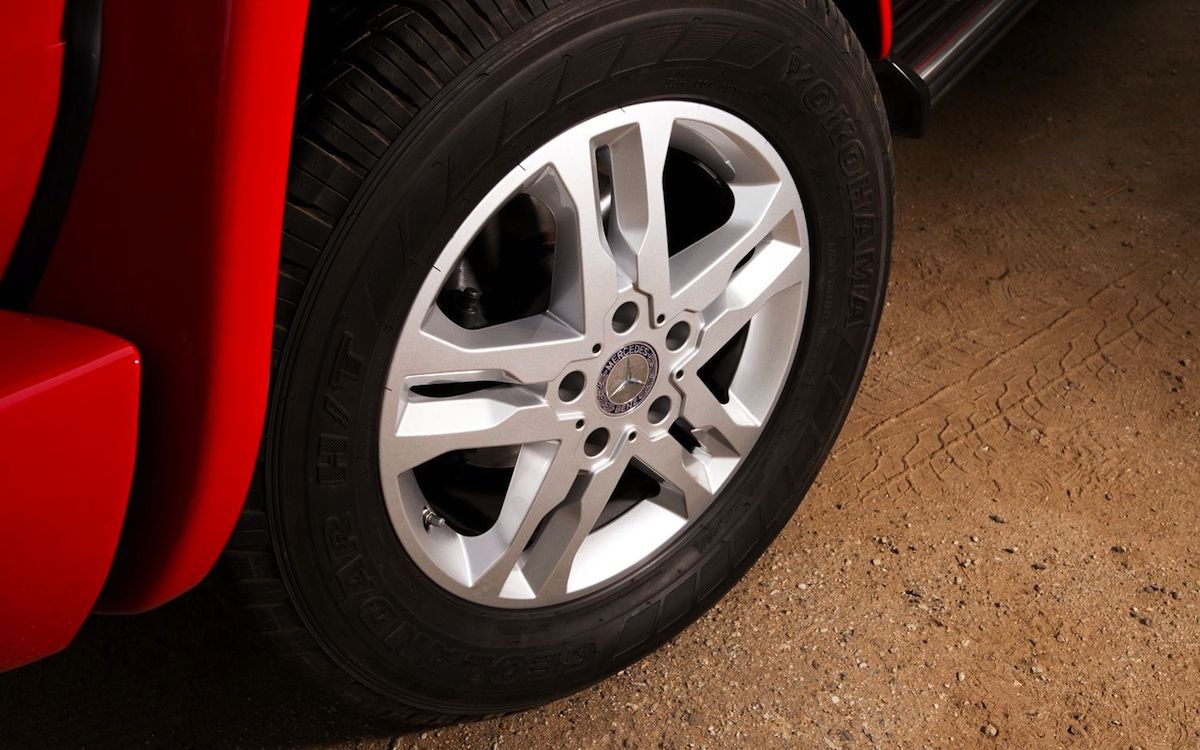 NEW/"Takeoff" Genuine OEM/Factory Mercedes-Benz G-Class WHEELS and TIRES
BEST Style
No Reserve and No Bidding – Just "Buy-It-Now"



This listing is for a COMPLETE set of FOUR (4) AS-NEW OEM/Factory Mercedes-Benz WHEELS with the original Mercedes-Benz factory-specified KUMHO TIRES.
This is a NEW/"Take-off" set removed at the Mercedes-Benz dealer prior to retail delivery when the vehicle was sold and outfitted with aftermarket wheels and tires. This is an extremely Bold and STRIKING style that will make your G look AMAZING.
Includes wheels and tires and ALL are in Absolutely ****P-E-R-F-E-C-T**** condition. Resplendent in their ORIGINAL (Not "reconditioned") finish, of-course they are all guaranteed to be round, true and free of leaks with NO marks nor deviations that I could see. The style of these beautiful rims is just Killer and you never see this gorgeous design available from the later G-Wagon's. Be clear on this – the condition of them is absolutely, positively perfect and like new with no curbing, scratches, blemishes, nada. THEY ARE AS-N-E-W.
As for the tires, these are the original Mercedes-Benz specified Kumho SOLUS KL21 radials in perfect shape with absolutely no issues or 'stories' whatsoever.
Size: 265/60R-18
Vehicle possessed only "delivery miles" which in this case was around 200. As you can see from the tread image, the tire molds (aka "nubbies") are still somewhat visible which serve as a testament to the newness of this set because as you can imagine, these are worn-off after only a little use. Same for all four. Stored upright (correctly), not stacked.
FITMENTS:
These wheels and tires feature a 5 x 130 bolt pattern ONLY FITS the G-Class.
This is a great way to really enhance the look of your Mercedes-Benz G-Class. Why go with other ebay wheels/tires that are USED or AFTERMARKET JUNK? You drive a Benz. Make a BOLD statement with these GORGEOUS factory wheels. And rest assured – when these wheels/tires arrive and you open the boxes –
PUT YOUR SUNGLASSES ON AND BEHOLD
They gleam and look ABSOLUTELY GORGEOUS
Check through my feedback – I sell alot of OEM wheels for a reason.
*****RARE OPPORTUNITY*****




FAST

FREE

SHIPPING
No Reserve – No Bidding – Just "Buy-It-Now"
Look at the SPARKLE and DAZZLE of these Spectacular AS-NEW
Mercedes-Benz

G550 Wheels and Tires.
Always shipped using New Custom Heavy-Duty Shipping Boxes for secure delivery.
Thank-You
INVENTORY CONTROL SOLUS-G
NOTE: IN ACCORDANCE WITH EBAY POLICY LISTED AT https://pages.ebay.com/help/confidence/vero-image-text-theft.html THE FITMENT INFORMATION, AD COPY, AND ANY PART OF THE LAYOUT OF OUR LISTINGS MAY BE NOT BE COPIED NOR REPRODUCED IN ANY WAY. THANK-YOU FOR RESPECTING THE CONSIDERABLE EFFORT THAT WE HAVE PUT INTO PRODUCING THIS.