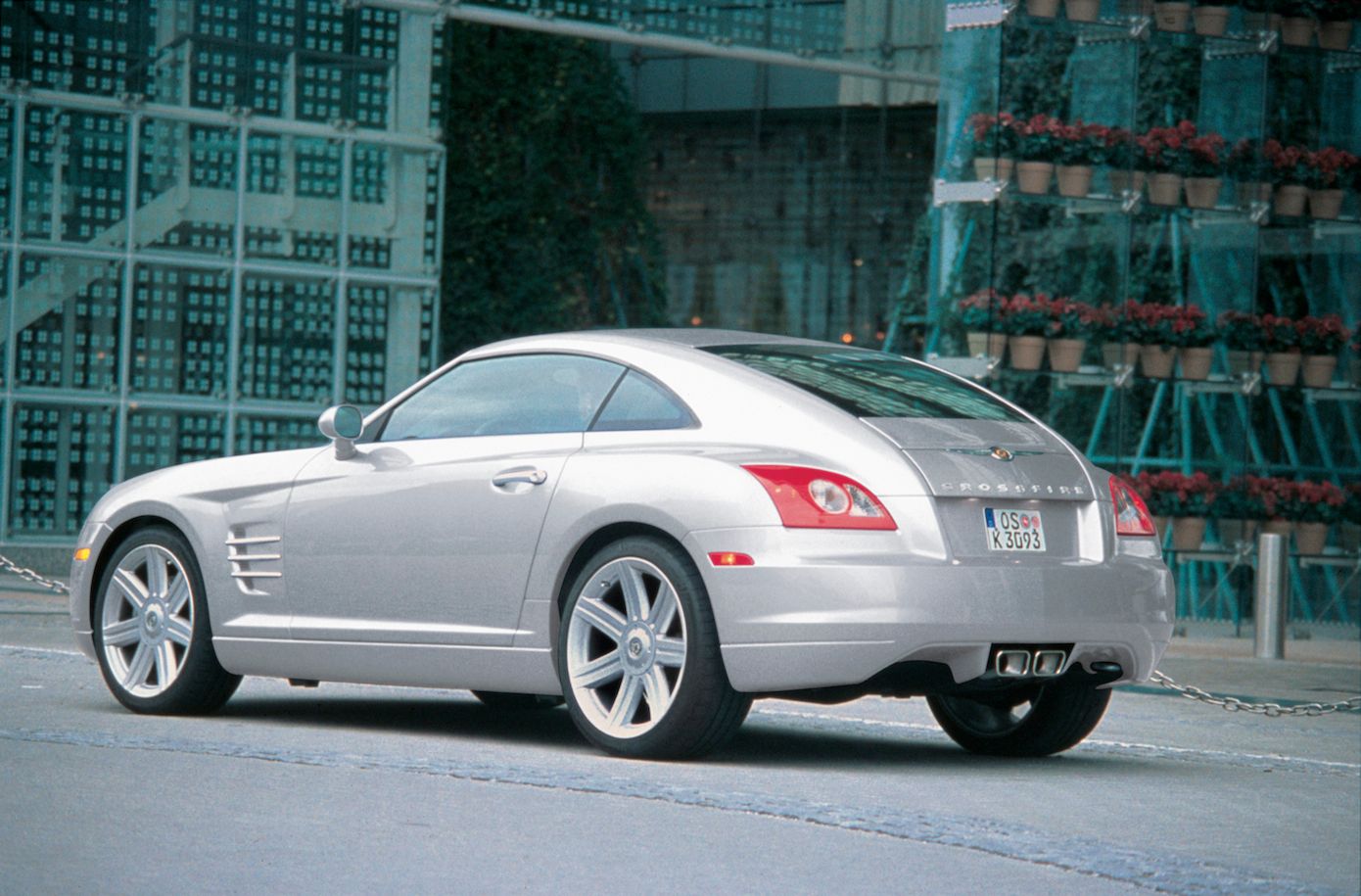 GET YOUR CAMERAS OUT – RARELY BEFORE SEEN ON ebay

AS–NEW OEM/Factory Chrysler CROSSFIRE
Wheels and Tires
No Reserve and No Bidding – Just "Buy-It-NOW"
This listing is for a COMPLETE Set of FOUR (4) AS–NEW OEM/Factory Chrysler CROSSFIRE WHEELS on BRAND–NEW TIRES.
Chrysler only made the unique Crossfire from 2004 through 2007, so finding parts for it 13 years later isn't easy. The style of these beautiful rims is just Killer, the quality is outstanding and they are OEM – that's what makes them so great.
Genuine Original OEM/Factory wheels had a few curb rubs associated with normal use, so we carefully refinished them in the exact original OEM/Factory silver and they are all in Absolutely *Perfect* condition with no issues nor stories to tell. The style of these beautiful rims is just Killer. Be clear on this – the condition of them is absolutely, positively perfect and as new with no curbing, scratches, blemishes, nada. THEY ARE G-O-R-G-E-O-U-S.
As for the tires, these are all Nankang Noble-Sport 20 radials in the original OEM Chrysler factory-specified staggered sizes of 225/40R18 in front and size 255/35R19 in the rear. Consumer Reports rates them highly as they are truly premium with outstanding handling. Again, these tires represent the very latest in tire technology and your vehicle will look outstanding and handle like it is on rails. Tread images/stickers show that we've procured Brand–NEW tires. They have never touched the road. So you know that you won't have to be concerned with tires for a very long time. Stored upright (correctly), not stacked.
This is a great way to really enhance the look of your Crossfire. Why go with other ebay wheels/tires that are
USED
or AFTERMARKET JUNK? Make a
BOLD
statement with these GORGEOUS RARE factory wheels. And rest assured – when these wheels/tires arrive and you open the boxes –
PUT YOUR SUNGLASSES ON AND BEHOLD.
They gleam and appear ABSOLUTELY AS–NEW.

Check through our feedback – we sell alot of factory automobile wheels for a reason.
***** RARE OPPORTUNITY *****




Fast

FREE

SHIPPING




Obviously Our ONLY Set
No Reserve – No Bidding – Just "Buy-It-NOW"
Look at the SPARKLE and DAZZLE of these Spectacular AS–NEW Factory Chrysler CROSSFIRE Wheels and Tires
We ship using New Custom Heavy-Duty Shipping Boxes for secure delivery






Thank-You
INVENTORY CONTROL CROSS-FYRE
NOTE: IN ACCORDANCE WITH EBAY POLICY LISTED AT https://pages.ebay.com/help/confidence/vero-image-text-theft.html THE FITMENT INFORMATION, AD COPY, AND ANY PART OF THE LAYOUT OF OUR LISTINGS MAY BE NOT BE COPIED NOR REPRODUCED IN ANY WAY. THANK-YOU FOR RESPECTING THE CONSIDERABLE EFFORT THAT WE HAVE PUT INTO PRODUCING THIS.