NEW CHROME Cadillac Escalade PLATINUM 22″ WHEEL & TIRE
NO BIDDING – NO RESERVE AUCTION – JUST "Buy-It-NOW"



This listing is for ONE (1) BRAND–NEW CHROME Cadillac WHEEL and used Bridgestone TIRE.
Wheel is NEW and NEVER-MOUNTED ON A VEHICLE! First quality and * PERFECT *. Any deviation you think that you see in the images is either glare or a reflection. It is * FLAWLESS *.
The style is the rare and gorgeous Chrome Cadillac Escalade PLATINUM 22″ wheel.
This is the factory-option code S85 wheel also known by the identifier "DNF" that debuted in 2008 and ran through 2014 on the top-option package Escalade PLATINUM.
Again, this is an EXACT REPLACEMENT wheel for the Cadillac Escalade "PLATINUM EDITION" 22 inch wheel. Of-course the factory cap fits perfectly in it and NOBODY can tell the difference between this and the dealer's wheel at over $1300.00. It will PERFECTLY replace your missing or damaged wheel, or SUPER for a full-sized spare.
This wheel is very rare and usually very expensive.
As for the tire, it is the original OEM GM/Cadillac Factory-specified Bridgestone Dueler Alenza radial.
Size: P285/45R22
See tread image depicting over 70% of the original tread remaining which is just great. Please note that while mounted and inflated, this wheel/tire is not balanced. Stored correctly (upright), not stacked.
This would make an outstanding replacement rim for your existing set, or super for a full-sized spare wheel and tire.
Center cap is shown for purposes of reference and is not included but you can have a Brand-NEW Genuine GM/Cadillac "color-logo" center cap still FACTORY-SEALED in the GM packaging, for just $59.
** BETTER THAN OEM **
How can we make such a claim? Here's how: The original wheel from Cadillac is made strictly to a (limited) price point. GM has had it's financial challenges these past few years and have been squeezing value (and quality) whereever possible, including your original OEM Cadillac Escalade 22″ wheels. Why are you reading this listing right now? Probably because one of yours is bent or even cracked. How did that happen? Because the original OEM Escalade 22″ wheels in this style are among the LOWEST quality wheels I've ever seen, that's how that (usually) minor incident ruined your wheel. So why does the Cadillac dealer get over $1300 for this wheel at his parts counter? Because there are 5 or even 6 layers of profit between the particular factory where your wheel was made, and your local dealer's parts counter.
That all being said, we have been making OUR wheel in this same exact design for 2 years now, to a HIGHER Quality standard. We have easily sold several thousand and have yet to hear one quality complaint. Not only is the chrome as-good or better than the OEM wheel, the wheel does NOT bend nor crack nearly as-easily. We haven't had one single quality issue yet! And because you are dealing with the manufacturer – well, you can see the great value.
Better than OEM and at a great price. It's that simple.
This wheel is very rare and usually very expensive – even used. When they can even find them, junkyards get even more and theirs are in FAR worse condition! But again – BE CLEAR and HAVE NO CONCERN – This wheel is perfect, Stunning, and FLAWLESS. You are going to be DELIGHTED with the QUALITY and SAVINGS.
If you follow my listings – you know that I sell alot of Cadillac wheels. Save many HUNDREDS of dollars off the Cadillac stealer er, dealer's parts counter.
This listing represents a phenomenal value and is a LIFESAVER if you need a replacement rim and tire. That crazy Cadillac dealer wants over $1300.00 at his parts counter. Plus the Significant cost of the factory Bridgestone tire. Why pay retail when you have ebay?
Check through my feedback – I sell alot of Cadillac wheels for a reason.
Attention Body Shops or those in a Crisis/Need:
*** I Ship VERY Fast ***
This rim/tire WILL SHIP within 24 Hours of payment if the next day is a business day
Fast FREE Shipping
No Reserve – No Bidding – Just "Buy-It-NOW"
Interested in a COMPLETE SET of 4 rims? Click here to see my ebay listings for complete sets of Cadillac wheels.
Thank-You for your interest
INVENTORY CONTROL 5358-70
To

VIEW Our

ebay

Sales of Escalade Wheels
CLICK HERE
We Have Sold MORE Than Anyone Else On eBay For a REASON!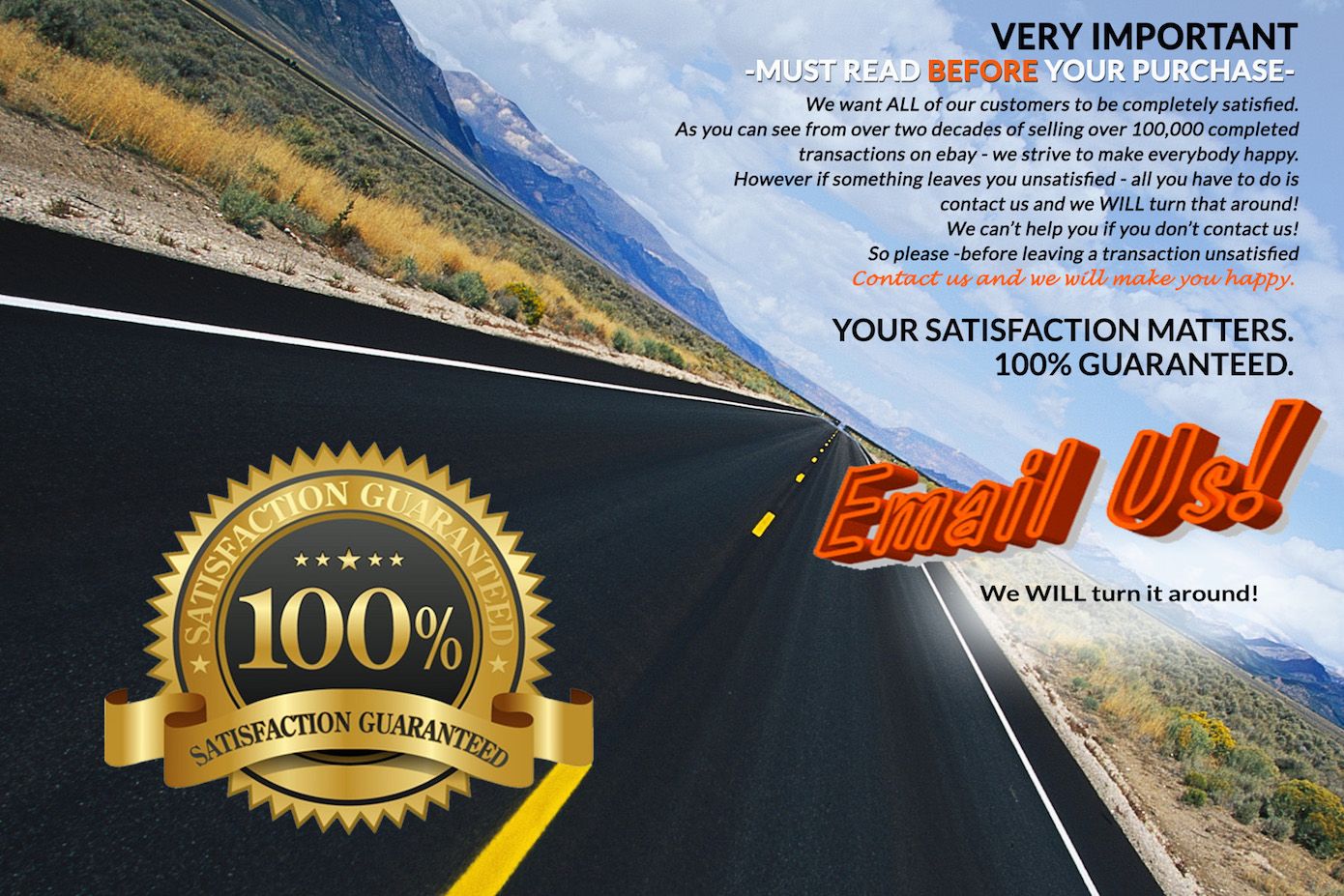 NOTE: IN ACCORDANCE WITH EBAY POLICY LISTED AT https://pages.ebay.com/help/confidence/vero-image-text-theft.html THE FITMENT INFORMATION, AD COPY, AND ANY PART OF THE LAYOUT OF OUR LISTINGS MAY BE NOT BE COPIED NOR REPRODUCED IN ANY WAY. THANK-YOU FOR RESPECTING THE CONSIDERABLE EFFORT THAT WE HAVE PUT INTO PRODUCING THIS.